Staff and Contributors

Greg Dember:
Publisher, Editor, Contributor
Greg makes music, writes, philosophizes and does computery things in the Seattle area. He wants to experience what the world would be like if everybody stopped lying, like for real. Click
here
for Greg's non-Artocratic online stuff. Also, Greg wants everyone to know that he coined the word
ironesty.

Linda Ceriello:
Editor, Contributor
Linda currently divides her time between Vashon Island, Washington and Houston, Texas, and studies comparative mysticism and popular culture. She is also a sometime artist and music maker, all pursuits that in some way engage her penchant for playfully but ruthlessly skewering unexamined assumptions.

José Alberto de Hoyos Ramos:
Contributor
José hails originally from Saltillo, Mexico.  Currently, he freelances within camera departments for television/film broadcast while also trying to manage his passion for photography. His work can be viewed at
www.pepedehoyos.blogspot.com
.

William L. Alton:
Contributor
William L. Alton was born November 5, 1969 and started writing in the Eighties while incarcerated in a psychiatric prison. Since then his work has appeared in
Main Channel Voices, World Audience
and
Breadcrumb Scabs
among others. In 2010, he was nominated for a Pushcart Prize. He has published one book titled
Heroes of Silence
. His website can be found at
http://billalton.wuargh.com
. He earned his both BA and MFA in Creative Writing from Pacific University in Forest Grove, Oregon where he continues to live.

Holly Day:
Contributor
Holly Day is a housewife and mother of two living in Minneapolis, Minnesota who teaches needlepoint classes for the Minneapolis school district and writing classes at The Loft Literary Center. Her poetry has recently appeared in
Hawai'i Pacific Review, Slant,
and
The Tampa Review,
and she is the 2011 recipient of the Sam Ragan Poetry Prize from Barton College. Her most recent published books are
Walking Twin Cities
and
Notenlesen für Dummies Das Pocketbuch.
Holly DeWolf:
Contributor
Holly is an illustrator, author, mentor, DIY'er, idea generator and big thinker, based in Eastern Canada. Holly grew up on a visual diet of Ed Emberley, comics, art, books, cartoons and music. Her first book was published in 2009 called Breaking Into Freelance Illustration: The Guide for Artists, Designers and Illustrators. Holly continues to work as a freelance illustrator and author with a second book on the way with big dreams of teaching in the future.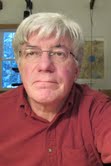 William Doreski:
Contributor
William Doreski teaches at Keene State College in New Hampshire. His most recent collection of poetry is Waiting for the Angel (2009).  His essays, poetry, fiction, and reviews have appeared in many journals, including
Massachusetts Review, Atlanta Review, Notre Dame Review, The Alembic, New England Quarterly, Harvard Review, Modern Philology, Antioch Review,
and
Natural Bridge
.
Ricky Garni:
Contributor
Ricky Garni is a writer and graphic designer living in North Carolina. He is presently condensing twelve manuscripts of poetry into one:
2% Butterscotch Ripple
. His other titles include
The Eternal Journals of Crispy Flotilla
,
Maybe Wavy
, and
My Fifteen Presidents
.

Howie Good:
Contributor
Howie Good, a journalism professor at the State University of New York at New Paltz, is the author of 21 print and digital poetry chapbooks and the full-length collection of poetry,
Lovesick
, published in 2009 by PressAmericana. His second full-length collection,
Heart With a Dirty Windshield
, is forthcoming from BeWrite Books. He has been nominated multiple times for a Pushcart Prize and the Best of the Net anthology. With Dale Wisely, he is the co-founder of White Knuckle Press,
http://www.whiteknucklepress.com
.
Daniel Grandbois:
Contributor
Daniel Grandbois is the author of
Unlucky Lucky Days,
a Believer Book Award Reader Survey Selection and Indie Next Notable Book, and the art novel
The Hermaphrodite: An Hallucinated Memoir.
His work appears in many journals and anthologies, including
Conjunctions, Boulevard, Mississippi Review,
and
Fiction.
Also a musician, Daniel plays in Slim Cessna's Auto Club, Tarantella, and Munly.

John Grey:
Contributor
John Grey is an Australian born poet. Recently published in The Lyric, Vallum and the science fiction anthology, "The Kennedy Curse" with work upcoming in
Bryant Literary Magazine
,
Natural Bridge
,
Southern California Review
and the
Oyez Review
.
Tresha Faye Haefner:
Contributor
Tresha Faye Haefner is a native of California, and has lived in small, medium, and large towns up and down the state. Over the years she has been a professional clown, temporary tattoo artist, fundraiser, waitress, and teacher of English, Social Studies, Creative Writing, and even once, Sex-Ed. She holds a degree in modern literary studies from the University of California, Santa Cruz, and currently lives in the Bay Area. She drinks coffee at a cafe called Barefoot, and sometimes writes poems on the backs of her tax-returns. Her work can be found in
Amarillo Bay
,
BloodLotus
,
Zygote in My Coffee
, and
Alien Sloth Sex
.