Interview of Metamodern Artists Alexander and Alexandra Krolikowski
by Greg Dember and Linda Ceriello
September 25, 2017
Artocratic editors Greg Dember and Linda Ceriello have been preoccupied of late with the development of a concept called Metamodernism—it's something that we regard as helpful in accounting for a distinctly new flavor felt in various cultural and aesthetic forms since the turn of the millennium. Now we are delighted to find ourselves bringing Artocratic and our research on metamodernism together with this feature on the Ukrainian artistic team of Alexander and Alexandra Krowlikowski.
Alexander (born in 1982) and Alexandra (born in 1990) both grew up in the shadow of the break up of the Soviet Union, and met each other and eloped in the years shortly after Ukraine's Orange Revolution. Seeing their artwork, we understood why they self-identify as "metamodern artists."
Here's our super-brief definition of Metamodernism:
A trend/tendency/sensibility found broadly throughout the arts and culture, emerging from and reacting to the -isms before it: mainly Postmodernism and Modernism. Metamodernism engages the conflicts between modernist conviction and postmodern relativism by, among other things, oscillating between sincerity and irony, by emphasizing personal, "felt experience" and by playing with hyper-self-reflexivity—the heightened awareness of one's life being a story shaped and told every day on various platforms, social media and otherwise.

If this description doesn't satisfy (hopefully it won't) or leaves you with more questions (hopefully it will)—take a look at our blog: https://whatismetamodern.com where we catalogue specific instances of the metamodern sensibility.
Below, we will showcase some our favorite KROLIKOWSKI ART pieces accompanied by snippets from an interview we conducted with them through Facebook chat.
Hugs
Krolikowski Art
Photograph
Alexander: Krolikowski Art was started in 2007, when Alexandra escaped with me from her parents home. She was only 17. And her mother was working in the secret police service. She threatened to put me in jail. And the police were looking for us, all over Ukraine.
Alexandra: My mother said: "A hippie is not a good choice for you. He has only dreams and plans, not a stable job." But we won our freedom to be together, and eventually my mom accepted it.
Greg: Did you begin making art immediately, while you were on the run?
Alexander: Yes, and it was special art-ritual, very dangerous, like in ancient times. Nowadays people are afraid to risk themselves for love. So we tried to start from ritual.
Learning to Fly
Krolikowski Art
Photograph
Alexandra: So we decided to turn all our life to art. Because only in this way could we produce something real.
Greg: Is the choice to include one's own image in the work a "metamodern move?"
Alexander: Perhaps. It is an evident trick; it looks a bit ironic. But at the same time it is a representation of our hidden hopes... maybe even childish hopes for something impossible.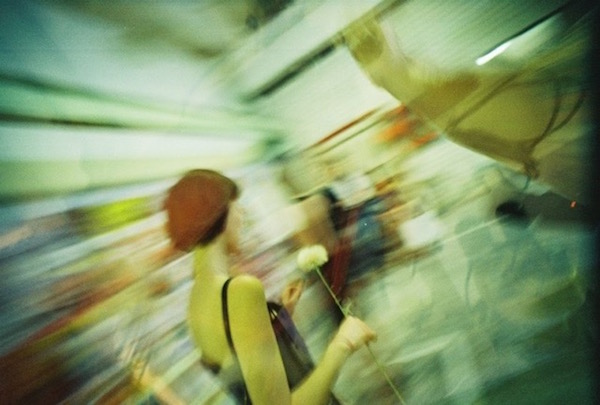 At Flow
Krolikowski Art
Photograph
Linda: Can you say more about your meaning of "real" ?
Alexandra: Instead of "something real" maybe it's better to say "something true."
Linda: And what is true?
Alexandra: "Something true" means... it's like a breath. Your breathing is true, because it gives you life. You cannot simulate it because a simulation does not give you oxygen.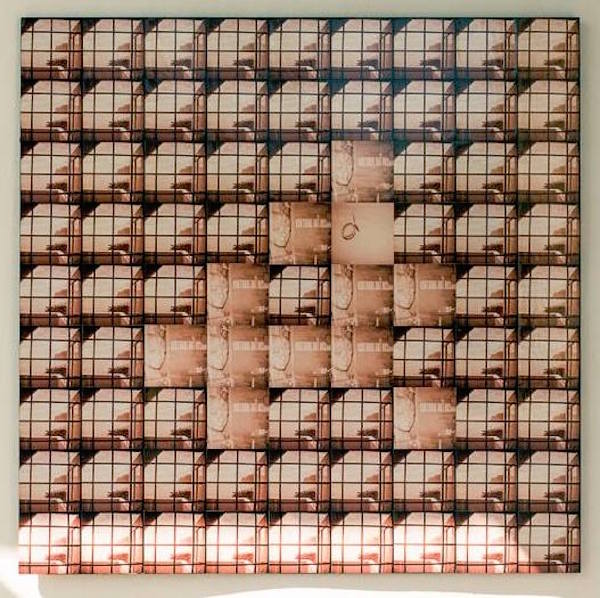 Jail Break
Krolikowski Art
Mixed Media
Alexander: Our parents and their generation lived as if they were in a cage, because of the influence of the Soviet Union. My mother often told me about it. The problem was not only in politicians, it was a problem with the general mindset. I want to tell you a story: Some years ago in Kathmandu, while walking down the street, I saw a cage with chickens. The owner of them belonged to the Hindu religion which declares "ahimsa" (you can't harm any living beings). So I just came closer and opened the cage. But the chickens did not want to go out. Their owner laughed: "They do not want freedom, they like their karma." There is a similar situation with post-Soviet countries. The cage is open but people are scared of something new.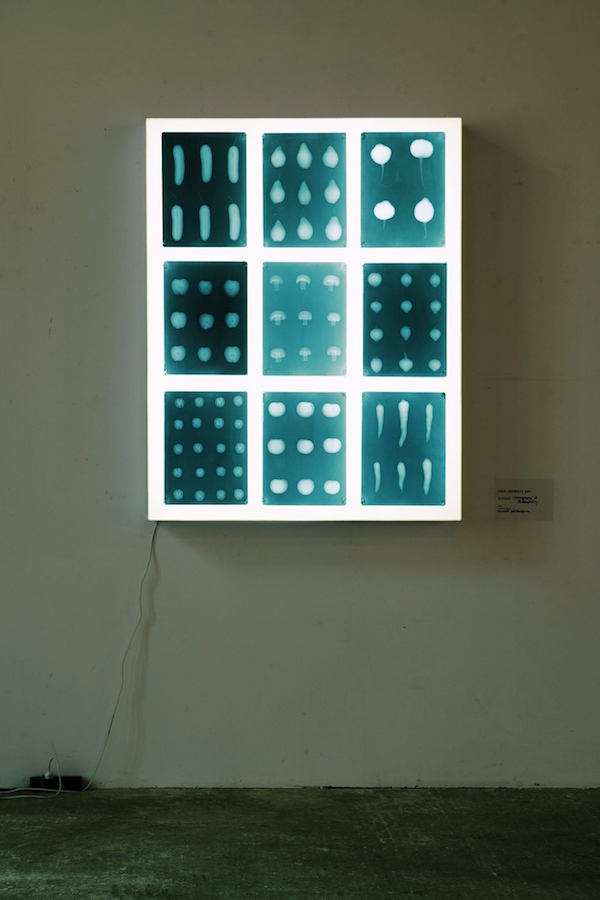 Iconography of Radioactity
Krolikowski Art
Mixed Media
Linda: Could you walk us through your creative process with an example of how you worked together on a piece?
Alexander: During the work on the Iconography of Radioactivity project we had the idea to create serious work about the Chernobyl disaster. As you know, there are a lot of speculations about it. So we discussed for a few weeks about the conception.
Alexandra: Together, we bought the vegetables, nuts and mushrooms on the market. The next step was to organize the shooting with X-rays. I was always the right person to inspire confidence in us at the official institutions, because Alexander's behavior is sort of aristocratic-freaky and Soviet people don't like it. But I've got the background in psychology and can find an approach that will open doors. So I went to the local clinic, and spoke with the doctors about this project. They were excited about the idea of doing something artistic, but they did not believe that it would be possible to get a real X-ray shot. They supposed it would be just dark or black film. But here is where Alexander appeared on the scene, and using his technical knowledge about photography and scientific devices, he convinced them that it could be possible.
Fauna
Krolikowski Art
Photograph
Alexandra: Fauna is a fluctuation between two poles: the predator state and the sacrifice state which both exist inside of human nature.
Hesperides Technoethics
Krolikowski Art
Photograph
Alexandra: When we created Hesperides Technoethics what we had in mind was a contemporary view of the fruit of knowledge of evil and good, reinterpreting the Garden of Eden myth and provoking the question of the beginning of this human story.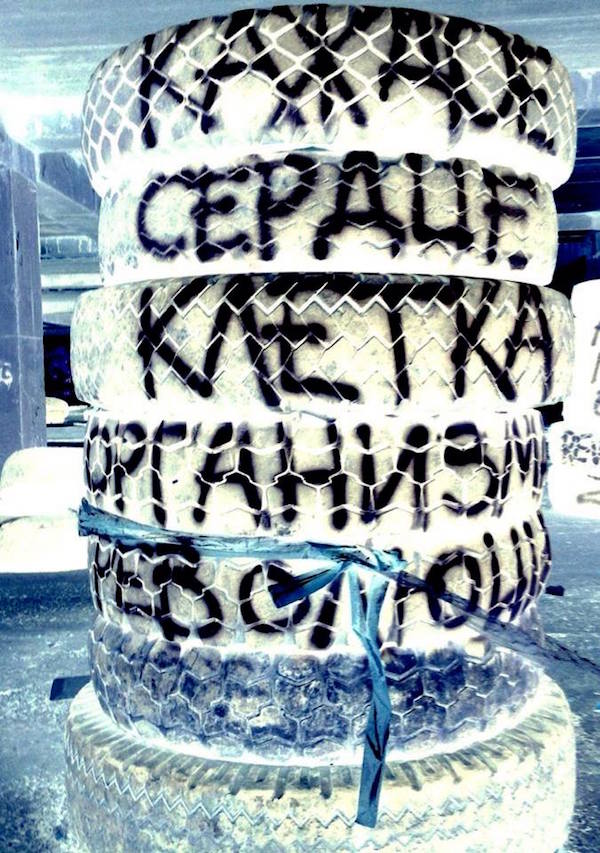 Every Heart is a Revolutionary Cell
Collaboration of Herbert Rometsch and Krolikowski Art
Installation
Alexander: The way I see it, all religions started from in-the-moment spiritual searching, but as time passes, they tend to turn into institutions, and lose mercuriality. Hot magma turning into cold stone. But according to the law of conservation of energy the warmth cannot be stopped entirely; it will flow to another place, giving the beginning of a new spiritual searching.
Alexandra: In the Soviet Union, people proclaimed their atheism, but, in reality, they continued to believe in something spiritual – something higher than themselves. Even scientists did this.
Alexander: And science was like the new religion in the USSR. People did not understand it, but believed in the power of science.
Breakfast With Writer
Krolikowski Art
Photograph
Greg: Has the relationship between Ukraine and Russia and/or the former Soviet Union influenced your work in any ways you'd like to describe?  
Alexander: Ukrainian culture has very postmodern characteristics. But when the political transformation occurred, Ukrainian society could not remain in an exclusively postmodern state, with cynical irony and cold non-engagement. In order to build something new, we needed to make room for modernist strategizing. We had to act with purpose. "Evolution or Death" – perhaps this is the new motto for Ukrainians. The Ukrainian revolution is an example of informed naivety, which is often named as a characteristic of metamodernism. All political acts are full of manipulations, and you should be wary of that, but in some situations you have to involve yourself. You can't stay out, just to avoid being drawn into a possible manipulation. You have to stay naive to win the fight.
Mavka
Krolikowski Art
Photograph
Alexander: The postmodern art that I had learned was so cold, with no emotional engagement. It was so separated from the heart. The Postmodernists claimed that History had ended, but I wanted to be a part of a grand narrative again.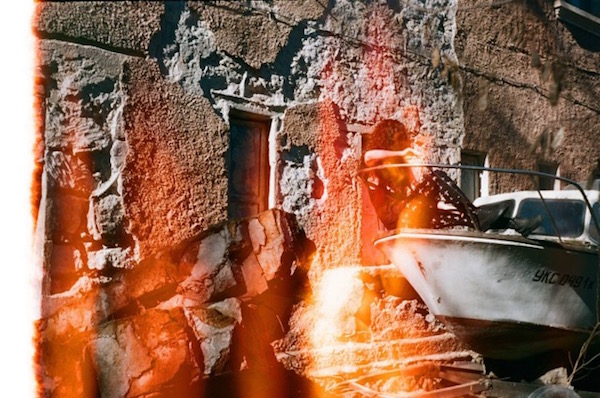 Dead End
Krolikowski Art
Photograph
Alexandra: I studied philology in university when we met. But it was such a dead discipline: the professors every day told us that everything great has happened already and we have to just read how was it. It was like living in a cemetery. This is why our duo is attracted to drama and dangerous narratives.
Chasing Rabbits
Krolikowski Art
Photograph
Linda: We have talked about our mutual appreciation for Wes Anderson's films, and you have a special relationship with one of them, Moonrise Kingdom. Can you tell the story of seeing Moonrise Kingdom with each other? How did seeing it change you or how did it inspire you?
Alexander: We had planned to watch Moonrise Kingdom with our friends; but a few times due to different reasons this did not happen. It was when we decided to watch it only with each other that we finally got to see it. It was a really cool experience. That year when we met, Alexandra wore a dress very similar to the one Suzy wore in the film and I liked to wear khaki clothes, like Sam. Moonrise Kingdom was our first encounter with Wes Anderson's works. It felt like this film was completely about us and that gave us the feeling that we were on the right path with our relationship and our art. It was like a sign that everything is going as it should be. Later with other of his films we discovered more parallels with us: for example, Grand Budapest Hotel. When we came to the cinema in Kiev to see this premier and heard in the beginning "Tanks near border," we just smiled, feeling again as if Anderson was telling our story. Also the plot takes place in a symbolic Eastern European country called Zubrowka. The made-up town "Lutz" is very reminiscent of Lutzk, a real city in the West of Ukraine. Perhaps this is a kind of artistic intuition that is based on the level of collective consciousness and beyond the daily physical laws of life, like a higher knowledge.
Alexandra: Also, in Moonrise Kingdom, Suzy has a vintage record player, and once after seeing the film, one autumn evening in Sevastopol, we passed a few homeless people who sat near what looked like a pile of garbage to us. Alexander noticed an old vinyl player near them there and just took it; but of course this "garbage" was part of the territory belonging to these homeless people and they considered all the stuff there like their wealth. They started screaming, but Alexander sincerely said "I am so sorry" and we just ran away with this vinyl player. This occasion was like a fragment of a movie, very much Anderson's style.
Metropolitan
Krolikowski Art
Photograph
Greg: There is something very tangible about your images, even amidst the surrealism. Do you still use film sometimes, or only digital photography now?
Alexandra: We prefer analog photography because we don't want to usurp reality. There is a kind of sacrifice of the physical object (film) for the process of image producing.
Alexander: And also Alexandra is a pretty girl and she needs pretty film cameras :)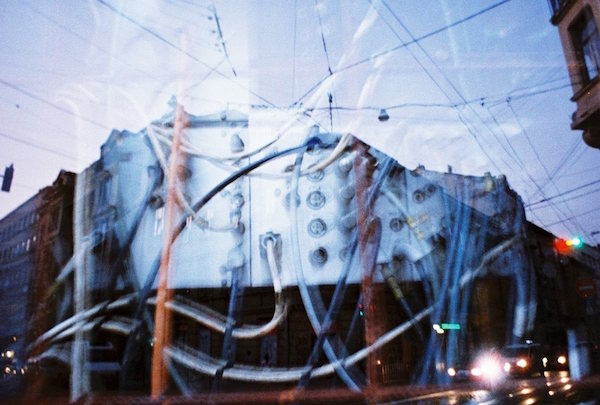 The Connection
Krolikowski Art
Photograph
Linda: Is it fair to say your art reflects your spirituality, or even creates your spirituality? or something else?
Alexandra: It is a fluctuation and interplay between creation and reflection, between romantic passion and analytic approach...
Alexander: All ritual is based on spiritual feelings and also feeds these feelings. The same relationship applies to art practices. In paleolithic times the artist, shaman, magician, priest, scientist, psychologist and doctor perhaps were all one person. He/she played music, made art, provided stability for tribe, was someone who helped the tribe persist and develop. We live in a time when religion, science and art are separate but seek to be connected.
Alexandra: To me the metamodern movement, the rising of romantic conceptualism, is not surprising – it's the next turn of reality. I guess that humanity is making a new step in the development of individualism, and now we have a shift or diving into the collective unconsciousness and interaction with it. Using the personal enhancement or exploration of sexual powers could lead to the discovery of new opportunities to influence this world. And the art, to me, is the best tool to build new connections between different conditions and levels.